Discover SAP EWM MFS
Rearrange HUs in multi-depth storage bins
Note: This blog is part of the series 'SAP EWM meets Automation' and shows an EWM standard logic which is rarely mentioned in any of the EWM books and documentations but tackles a process which is essential in automated warehouses with SAP EWM MFS multi-depth storage bins.
The content provided here has been created in cooperation with the SAP EWM team at Swisslog. Feel free to visit their website in case you want to learn more about EWM @ Swisslog!
Note that you need to have a rough understanding of the MFS component as well as some basic ABAP knowledge in order to understand the content of this article.
What is the problem we are looking at?
Multi-depth storage can be used to save space in automated storage types. It results in fewer working aisles and resources and a higher storage density. Multi-depth storage bins can contain multiple handling units (HUs) stored horizontally behind each other.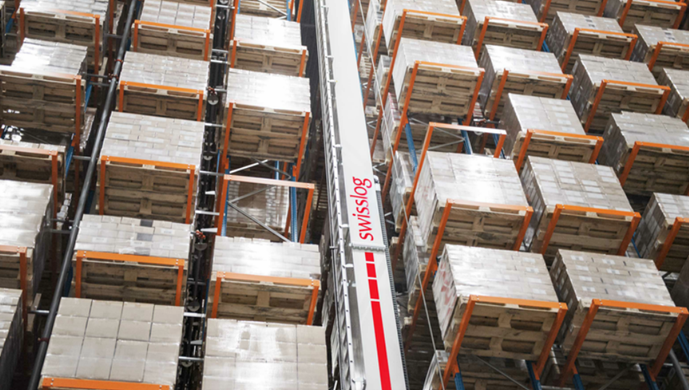 Usually, goods are retrieved following the LIFO (last in, first out) principle but this cannot always be ensured (e.g. in warehouses with the necessity to store HUs with different products on the same multi-depth bin). In such a situation it might become necessary to rearrange the HU on the front position in order to access the HU on the back position (the back storage bin always has the highest bin depth – here '02' – and will be filled first). In this example here, pallet A is on position 02 and pallet B is on position 01. We created a warehouse task and want to retrieve pallet A.
.
In order to achieve this we need to rearrange pallet B at first. Based on the status of HU B we do have two options in EWM standard here: – Rearrange pallet B (in case pallet B does not have a HU WT already, we can move it to another free bin) – Remove pallet B from stock (in case pallet B does already have a WT we cannot create a new one but have to process the existing one)
.This sounds straightforward but it has some hiccups and specialties. Let us have a look at the details.
Customizing prerequisites
The following settings are needed on storage type level in order to work with multi-depth bins:
.
In addition to this, you need to define the bin depth of the bin types and the required depth of the HU types:
.
Once done, the logical position will be visible in the stock/HUs of this storage type as well as in the warehouse tasks to move stock into or out of this type:
Where do we find the standard logic?
Badi /SCWM/EX_MFS_MD_REARR_HU with fallback class /SCWM/CL_EI_MFS_MD_REARR_HU is called from include /SCWM/LMFS_MAINF06, subroutine call_badi_multi_deep:
.
Standard will try to rearrange here in the context of determining the next WO/WT to be processed by the subsystem: